28 November 2022 – Key interior and exterior spaces from YSA Design on board MSC World Europa create a mood to match the newly delivered ship's mission to serve the luxury cruise market 'with the future in mind'. The results set the tone for experiencing a vessel which is already marked out by the sustainable technologies on board.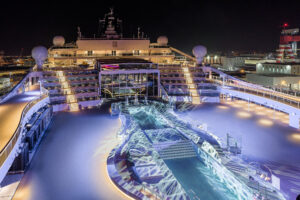 Built by Chantiers de l'Atlantique, the 7,000-guest capacity vessel is the first MSC Cruises ship powered by liquefied natural gas (LNG), and also has an LNG-fuelled solid oxide fuel cell (SOFC) demonstrator onboard. Other sustainable technologies include smart ventilation and air conditioning systems, LED lighting throughout and a 'Baltic standard' advanced wastewater treatment system (AWTS). The engine room has even been designed to minimise underwater sound.
Original thinking from the concept stage onwards has also been the guiding principle in YSA Design's involvement in the first-in-class ship project. The Oslo-based company developed the 333m length vessel's side view, as well as outdoor areas including multiple pools and interiors such as MSC Cruises' signature DoReMi Club area for kids, the multi-function 'Sportplex' and signage throughout.
"This is the largest cruise vessel YSA Design has ever worked on, and we were delighted to develop a ship profile which is far more elegant than the typical ship of this size," said Trond Sigurdsen, YSA Design Senior Architect. "Instead of each deck in the superstructure being another 'step', we unified the structure front to aft in a 'wave' which ties the side view together. There's also a highly effective inversion which delivers the largest possible space on the top decks."
Despite its size, MSC Europa's design solutions include multiple outdoor areas developed by YSA Design "for the human scale", adds Sigurdsen, where guests can enjoy smaller, secluded spaces. Similarly, the Magrodome on deck 19 features partitioned areas which include Jacuzzis cocooned in rope netting to ensure privacy, while materials and colours throughout have been chosen to emulate a 'tropical paradise'.
YSA Design Senior Interior Architect, Fabiana Vale Dornelas, said that the cruisers of the future will also be drawn from the younger guests creating happy memories today. Serving their preferences made the design solutions delivered for other zones on deck 19 a priority, she said.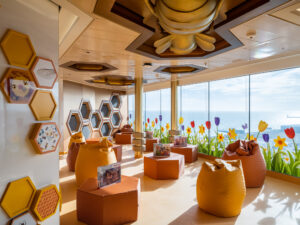 "The Baby Club, Mini Club, Young Club and Teens Club – each has a strong identity, with elements engaging the young mind and inspiring curiosity, whether by using bold colours, geometric shapes and quirky lighting for the very young, fairy-tale themed spaces for toddlers, or the manga-inspired wall art developed for teens."
The same flexible approach was applied in designing Europa's Sportplex, according to YSA Design architect Carlo Mancin. "Just as the kids' area has to appeal to every age group, the Sportplex accommodates team sports, rollerblading and even bumper cars in a single zone of the ship," he said. "In this case, creativity was needed to allow quick changes from one function to another."
MSC World Europa is due to embark on its maiden voyage on 20 December 2022, hosting a four-night cruise from Doha, Qatar to Dubai, United Arab Emirates.
About YSA Design
Founded in 1985, YSA Design is one of the world's leading architects and design studios for the cruise ship industry. It has decades of experience that extends from the concept stage, to General Arrangements, interior and exterior design solutions, materials selection and project management in the shipyard. In recent years, we have also completed a growing number of land-based commissions.
Our philosophy is to deliver designs that are both functional and unique: we do not limit our customers to one style; instead, we offer diversity and designs that are tailor-made for each commission. YSA Design's creative process rests on three pillars: close relationships with clients; our talented and innovative staff; and the skills and experience of our founding partners. For more information, visit www.ysa.design.