9 October, 2017 – Strong design vision and comprehensive project management capabilities will be essential ingredients if the cruise industry is to capitalize on fast-changing passenger demographics and ensure that vacations at sea are more than a 'once in a lifetime' experience, according to YSA Design.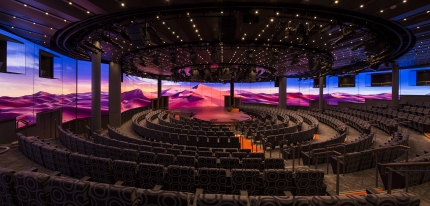 The World Stage theatre on board Holland America Lines Koningsdam was a recent landmark for YSA Design. With its two story 270 degree wraparound LED video canvas and reconfigurable central stage the theatre is unique in
Over the summer, the leading ship interior and exterior architect has been bringing its design and project management skills to a radical main deck conversion of a European-built ship to meet Asian cruising tastes at a Chinese yard. The Chinese Government sees cruise shipbuilding as integral to its 'Made in China 2025' programme. YSA Design's participation in conversion work at a Chinese shipyard had brought timely insight into a market preparing to meet local demand, explains Anne Mari Gullikstad, CEO, YSA Design.
"The emergence of this exciting market is a driver for growth and a seismic shift for the industry, posing new challenges for ship designers," says Gullikstad. "Through a combination of study trips and diligent research, we realized that adapting existing cruise ships for this new market involves more than simple cosmetic change. We have to strike a balance between aesthetic and functional requirements for a new audience which requires a variety of dining experiences, larger and specific retail areas, dedicated spaces for group activities, exercise and entertainment events, and a real focus on gaming arenas."
No more than a handful of companies fully engage from concept to delivery in the multi-layered world of cruise ship design, liaising with owners, architects, engineers, yards and subcontractors. YSA Design emerged after a 2016 management buy-in at Petter Yran & Bjørn Storbraaten, renowned for cruise ship innovation for 30 years. In a new 'partnership of equals', Gullikstad works alongside longstanding associates Einar B. Jungård, Jan Krefting, Trond Sigurdsen and Tov Arne Svalestuen, founders Yran and Storbraaten, and existing partner Gunnar Aaserud.
"There's a new intensity since the restructuring, but what remains unchanged is that there won't be a generic 'YSA Design'," she says. "We develop unique designs for cruise ships and land-based customers, working to achieve what the client wants in harmony with the ship, passenger experience, crew needs and service delivery. That is following through to our work for ships serving Asian clientele."
It is a philosophy that has led the YSA Design team into areas of specialization in developing both interior and exterior spaces. 'Kids areas' based on inclusive design principles, rather than segmentation, have evolved as a specialty since the company's early selection by Disney Cruises. Its approach has been sought out by other owners as cruising demographics have changed.
Gullikstad also points to the 'immersive' theatre designed for Holland America Line's Koningsdam, with its central stage and wraparound video canvas, and the Jean-Philippe Maury chocolate atelier onboard MSC Meraviglia as enticements that could make repeat passengers out of new cruisers.
The newly energized YSA Design is ready for growth, but Gullikstad emphasizes that it will not come at a price of compromising a hard-won reputation. "One emphasis is to grow 3D modelling, where we invested in the latest hardware and software after the restructuring. Our goal is to grow to 35-40 staff, while ensuring that experienced leaders manage every project. There is certainly no shortage of applicants. People know that what we do here is pretty special."