Posted in Marine industry talk
Many of JLA Media's clients stand at the forefront of the technological revolution unfolding in today's maritime industry, including advanced ship to shore communications, the Internet of Things, new propulsion and automation solutions, and other cutting-edge developments.
However, the fact remains that the most important 'component' in ensuring the efficiency of the modern cargo vessel is its human crew. Crews are the literal and figurative lifeblood of our industry and it is their effort and professionalism which ensure that ships at sea continue to sustain the world economy.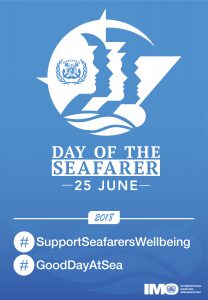 So, it is heartening to see IMO continue its tradition of reminding us and celebrating their invaluable role through its 'Day of the Seafarer', which this year falls on 25 June. Launching the day, IMO secretary-general Kitack Lim credited seafarers for performing a tough and challenging job that can be rewarding and fulfilling, but which also makes immense physical and mental demands. "Despite technological advances, the industry continues to rely on [seafarers'] labours and expertise," he said.
The focus for 2018 is seafarer wellbeing, where abandonment, unpaid wages, the threat of criminalisation, and limited opportunities for shore leave are issues too often left to fester. These matters demand a formal response from the authorities that oversee the industry, whether through new legislation or better enforcement of existing laws. International cooperation to assist Port States with limited resources will likely also be necessary.
This year's campaign also emphasises mental health, which is something that can – and should – be addressed at all levels. The campaign seeks to encourage improved conditions by showcasing best practices and teasing out shortcomings.
The organisers have created an online survey to ascertain to what extent seafarers know their rights and whether those rights are fulfilled in daily reality. Feedback will be channelled back to member states via the IMO Council.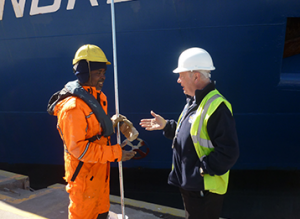 Initiatives and resources developed by charities and advocacy groups championing seafarer welfare will also be promoted. The materials cover everything from self-care (managing stress, eating healthily and taking regular exercise, etc.). The Sailors' Society's Wellness at Sea programme has shown what can be done to provide seafarers and their employers with a suite of tools to manage and maintain wellbeing, including a smartphone app and an e-learning platform.
Certainly, technology is having a major impact. To borrow from the technologist's lexicon –  if shipping is the 'enabler' of the global economy, then alleviating the loneliness of life at sea through greater connectivity can only mean better enabling the enabler. Far from its stigma as a channel for online bullying, social media use by seafarers can even help to flush out the disagreements that can otherwise become HR disputes on board ship.
But, as ever, other people tend to be the best resource when it comes to communicating directly with 'the human element'. Writing recently in Splash247, Sailors' Society CEO Stuart Rivers stresses the importance of its network of people on the ground that provide pastoral care and organise logistical support, as well as the financial aid it provides in the form of welfare grants.
The organisation has helped seafarers reintegrate into 'normal' life after being held captive by pirates and transported seriously ill seafarers to foreign ports for medical treatment, while its crisis response team is regularly called upon to respond to cases of abandonment, accident or ambush.
According to research commissioned by the Sailors' Society, more than a quarter of seafarers indicated symptoms of depression. Last year, the UK P&I Club reported suicide as the highest cause of fatalities at sea.