Posted in Maritime PR
Like no other event on the shipping calendar, Posidonia is what you make it: multi-million-dollar deals can be done over the canapés; footsore foot soldiers can be nabbing 'exclusive' party invites before breakfast; all the while, self-inflating strategists can grow more convinced of their own importance without leaving the top table bubble.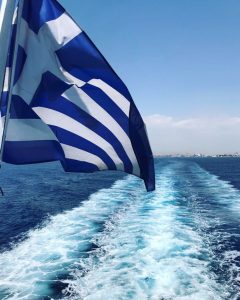 All of this can be happening or missed amid a non-stop industry newsfeed, snippets on who's buying and who's selling, and what the big hitters are saying, plus an exhilarating whirl of gossip about who was seen out and about, who wasn't, and who did what to whom. And, for any tempted to turn a jaundiced eye on proceedings, in 2018 the biennial event celebrated its half century with record-breaking numbers, suggesting that only those who are tired of shipping can tire of Posidonia.
This year, 2,011 exhibiting companies and some 22,000 visitors from 92 countries passed through the Athens Metropolitan Expo.
As has been the case since 2012, scheduled highlights included the Tradewinds Shipowners Forum, this year attracting over 500 attendees. Here, debate centred around the IMO fuel sulphur content cap due in force from 2020, the short-term preference of Greek owners for exhaust gas scrubbers, and the attractions of LNG now that IMO plans to halve CO2 levels by 2050.
As ever, JLA Media's presence at Posidonia revolved around its maritime PR clients and we were delighted with attendance at the Japan Seminar, where presentations included one from ClassNK Regional Manager of the Eastern Mediterranean Sea & Northern Black Sea, Seiichi Gyobu on the industry's environmental challenges.
Nevertheless, for JLA, it is Posidonia's unpredictability which sets it apart. There is, of course, the glamour of the party circuit, the delicious food and the spectacular settings, but this is also the occasion when pleasure and business truly meet, when we strengthen friendships as well as business relationships.
After a busy day of press meetings and video interviews for Gibdock, Viking, and Inmarsat, we enjoyed a traditional Greek dinner with Transas in Glyfada before heading to the sumptuous Wärtsilä party at the stunning Septem Prive at the Atseras Glyfada Complex. With the night still young, we also made an appearance at the Island for the Capital Party.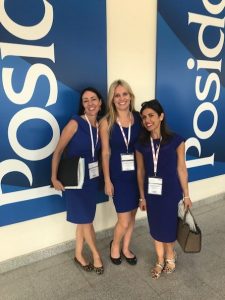 Only a few hours (of sleep) later, we were all set for the bustle of Wednesday – with all female JLA staff inadvertently turning up in matching blue outfits, which somehow seemed to fit with the signing between Inmarsat and Hellenic SPACE Agency (HAS) of a new IoT research agreement. Inmarsat also presented its 2018 report on the future of the IoT to a packed room of international and local press.
Posidonia could also not have come at a better time for Coldharbour which celebrated the growing success of its ballast water treatment technology in Greece market with a well-attended, friendly afternoon reception before guests headed off to their evening entertainments.
On Wednesday evening, some of us had a chance to admire a glorious sunset over the Aegean Sea from the Divani Apollon Palace & Thalasso Hotel where Inmarsat hosted a dinner on the magnificent terrace of the Mythos of the Sea Restaurant. Others joined a fine sushi reception held by the Embassy of Japan in Athens and the Japan Ship Exporters' Association at the Athenaeum Intercontinental.
JLA hosted ClassNK a pleasant 'catch-up' business lunch by the sea at a Loutsa taverna on Thursday, before returning to the Metropolitan Expo to join the Isalos.net event 'The next chapter in shipping: A new era of Ship Managers in the age of digitalization'.  There, before an audience of 420 Suzanna Laskaridis, Founder of Real Time Graduates gave a standout presentation exploring how ship managers can adapt and integrate digital innovations to existing structures.
Without missing a beat, we travelled on to the renowned Marshall Islands Party, held at the magical venue of Ble Azur Club on the beach of Alimos. As others have said, Posidonia is a marathon, and on this occasion we stayed the course with some of our closest industry friends and clients until the break of the day. But the numerous 'survival guides' can only give you a fragmented picture: Posidonia is the event that embraces not only the business of shipping, but its pleasures and a seafaring spirit that has endured in Greece since ancient times.