Posted in Maritime PR
Big changes lie ahead for shipping – that was certainly the message at this year's Nor-Shipping. The international maritime fair took place in Oslo from 30th May to 2nd June. While by no means the first maritime event of the year to focus on 'Disruption', 'Big Data' and 'Cyber Security', Nor-Shipping brought characteristic Nordic clarity to the digital debate, and a contagious feeling that change is already under way.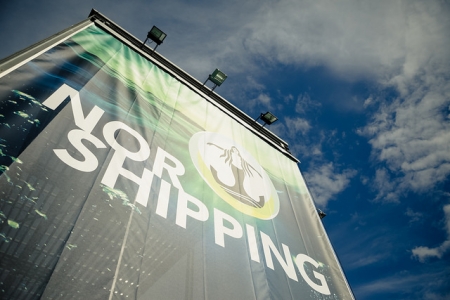 Nor-Shipping photos: https://www.flickr.com/photos/norshipping/The buzz around the ABB stand was indicative, where royal visitor Crown Prince Haakon Magnus of Norway received a demonstration of how Collaborative Operation Centers are transforming the way engineers on board and ashore cooperate, keeping ships more efficiently at sea.
ABB's royal connection did not end there, with the Prince also called upon to present the 'Ship of the Year' award to NKT Victoria, the cutting-edge cable layer that includes the breakthrough ABB Onboard DC Grid power solution, as well as Azipod® propulsion and ABB marine software.
The transformative theme found a focus in the new 'Disruptive Hall', a new use of space at Lillestrøm's convention venue. The aim was to create a 'gateway between the high-level conferences and the traditional exhibition', where visitors were invited to experience new advanced technology from shipping's would-be game changers.
ABB (again!) showcased the first of its kind collaborative dual arm robot which welcomed visitors into the hall. Once inside, low-lighting throughout fed an air of expectation among visitors, while the open-planning of the hall's 'Ocean Space' interior and the lack of high barriers between its circular stands encouraged interaction.
One of the stand-outs in the new hall proved to be the 'disruptive' experience from DNV GL, which offered a digital journey supported by VR that took viewers on a tour of the containership Shanghai Express, demonstrating how advanced technologies on board are disrupting the maritime industry.
The Disruptive Hall also played host to a provocative series of thought leadership debates organised by Fathom Maritime during the week. Among the key participants was Ronald Spithout, President of Inmarsat Maritime, who offered insight into the future of satellite communications from the maritime market's leading service provider. Also thought-provoking was Philip Chaabane, CEO of I-Tech., who discussed the unique antifouling ingredient Selektope®, and outlined the way original scientific research is 'disrupting' the way ship hulls are coated.
Young maritime professionals are the 'enablers' of industry today and tomorrow, and this theme was picked up by Frank Coles in his remarks to the Young Ship Event, where the Transas CEO identified the knowledge and the willingness of youth to embrace new tech as the keys to change in shipping.