Posted in Maritime PR
Despite economic and political challenges, Russia's firm intentions to grow its maritime industries while driving cooperation in the Arctic proved to be key themes in the lead-up to NEVA 2017, which took place in St Petersburg between 19-22 September.
Held for the second time within the new Expoforum Convention Centre, this year's record-breaking event achieved full occupancy of the gross 26,600m2 with participants including over 600 companies from 36 countries, while the parallel NEVA 2017 Conference attracted over 1,500 speakers and delegates.
In line with its longstanding relationship with NEVA organisers, Dolphin Exhibitions, JLA Media was once again on hand to manage a buzzing press office, serving international and Russian media, high-level conference speakers, new and established exhibitors, and a stream of visitors. This year, more than ever before, JLA Media's insight into engaging the maritime audience with social media and digital channels came into its own.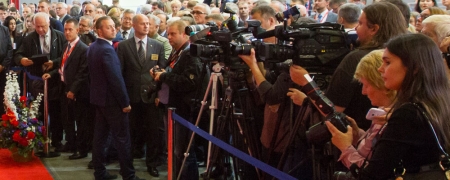 Massed ranks of cameras were out for the opening ceremony, which proved to be a red carpet affair, with VIPs including senior figures from the International Maritime Organization and leaders from both the private and public sectors.
As the most international edition in recent times, NEVA 2017 saw the participation of several industry groups, including a commercial mission of 17 maritime industry companies from northern Germany. The Norwegian Russian Chamber of Commerce were also out in force, as was the recently launched KNARR Maritime – a consortium of six Icelandic firm experts in the fishing vessel industry which joined NEVA for the first time this year in pursuit of fishing fleet renewal opportunities.
Business ties between Russia and Finland in the maritime sector led to a dedicated conference session, while 21 Finnish companies attended NEVA 2017 under the FinPRo banner. ABB Marine and Ports stimulated particular interest, with visitors seeking more information about the Azipod propulsion units supplied to the first LNG carrier to cross the Northern Sea Route – Christophe de Margerie.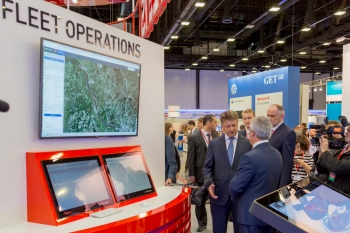 Maxim Sokolov, Minister of Transport of the Russian Federation
on the Transas stand at NEVA 2017THESIS, the Transas Harmonised Eco System of Integrated Solutions, also attracted visitors in numbers, in this case including Maxim Sokolov, Minister of Transport of the Russian Federation, who received a demonstration of how this flexible platform is transforming the maritime industry.
Developments in the Arctic and Russia's intentions to support the NSR infrastructure and protect this sensitive region were central to this year's Conference, with the 5th annual meeting of the annual International Expert Council on Cooperation in the Arctic held as part of the NEVA programme.
In line with wider industry development, the 2017 agenda also offered participants sessions with a sharp business focus, providing insight into Russia's maritime, inland, shipping, shipbuilding, and port industries. The Disruptive Technology session devised by the Russia's National Technology Initiative, MariNET, was a major highlight, featuring cutting-edge solutions such as high-speed transport, solutions for e-Navigation, new energy, underwater exploration and communications and ship equipment.
Overall, it was a fascinating week, and JLA Media was delighted to put its press office management, social media, writing and distribution skills at the disposal of the organisers, as well as to meet some old and new friends at NEVA 2017.