Posted in Maritime PR
With a wealth of maritime heritage and its status as Europe's number one port, Rotterdam today is a vibrant city whose business and cultural significance has been coined in the phrase 'Manhattan on the Maas', to denote the sleek architectural skyline that symbolises its regeneration.
This thriving maritime hub also hosts one of the busiest and most popular shipping trade events of the year, with 1,100 exhibitors representing 45 countries and some 26,733 visitors from 93 countries attracted to this year's Europort.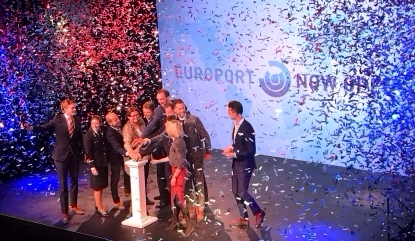 Something of the city's energy was captured in an opening ceremony featuring a spectacular performance from urban dancers and drummers. Meanwhile, Olympic volleyball champion Peter Blangé likened the drive towards sports performance analytics to shipping's growing focus on data as a route to better vessel and crew performance.
Strengthening our cooperation with event organisers, Rotterdam Ahoy, the JLA team supported the communication activities around the four-day event, playing a key role in engaging the maritime audience with live social media and digital tools.
A well-attended conference on 'Power and Propulsion Alternatives for Ships', organised by the Royal Institution of Naval Architects (RINA), kicked off with a welcome from RINA's Trevor Blakeley and a keynote speech from JLA client, Foreship Ltd. Here, Jan-Erik Räsänen, Head of New Technology at Foreship, investigated the challenges facing alternative marine power and propulsion solutions, analysing how battery energy storage and fuel cell technology can enhance energy efficiency for cruise ships.
Focusing on three core themes – Big Data, The Human Factor, and the Environmental Age –  the Europort 2017 programme was enhanced by four masterclasses, offering insights into subjects that are now central maritime discussion points.
A special masterclass focusing on blockchain technology and the benefits of distributed ledgers was included in the programme. Another thought-provoking masterclass gave delegates the opportunity to reflect on how the data collected in volume onboard vessels can be best used to achieve cost-efficiency and improve fleet performance. A dedicated HR masterclass highlighted the benefits of leveraging 'digital human resources', analytics and predictive models as essential management tools. CO2 monitoring also jostled for attention, with visitors interested in the way energy management saves money and supports MRV compliance gathering for a special masterclass on Wednesday.
Our team also had the pleasure of joining organisers, visitors, and exhibitors for the annual Europort Cruise Party onboard SS Rotterdam, the former flagship of the Holland America Line. This legendary ship, also known as 'The Grande Dame' offered guests beautiful views of the river Mass while enjoying a lively night filled with live music, delicious food and, above all, great company!